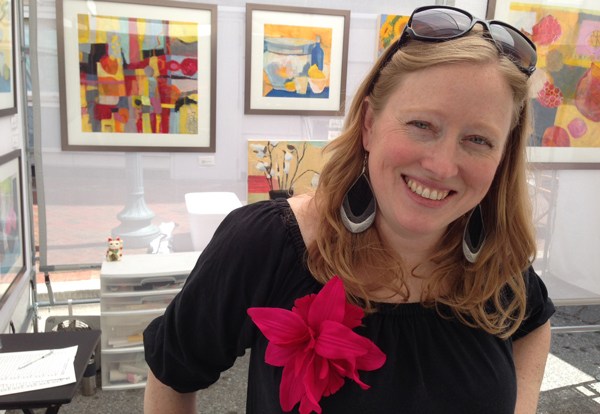 about the artist

I produce contemporary mixed-media paintings, working in an expressive, abstract manner. My pieces are distinctive in their use of layering, bold colors and appealing forms. The first layer I put down is never intended to be the last.
Each piece takes me on a personal journey of discovery. I start with a general concept but work directly with the piece to facilitate the release of its own truth. I enjoy the process of drawing and painting, making marks, putting down new layers over old, leaving pieces of the original layers showing through. The multiple approaches on this path are visible in the final piece, giving it a depth and complexity it would not otherwise have. Much like in our own lives we are the accumulation of the steps we take both right and wrong, it is the journey and the process which creates meaning.
I have exhibited in galleries in the Washington, DC area. My work is in private and public collections. I have a studio at the Gateway Arts Center at Brentwood. I was awarded a grant from the Arts & Humanities Council of Montgomery County two years in a row.
resume
shows
2017
The Gallery at Children's National Health System, Washington, DC, "Journeys", solo show
Bethesda Fine Arts Festival, Bethesda, MD
Rittenhouse Square Fine Arts Festival, Philadelphia, PA
King Street Art Festival, Alexandria, VA
Artomatic, Crystal City, VA
2016
Stimson Center, Washington, DC, solo show
National Institutes of Health, Clinical Center, Bethesda, MD
Kramer Gallery, Silver Spring, MD, "Abstraction: From the Sky Down"
Rittenhouse Square Fine Arts Festival, Philadelphia, PA
Artomatic, Potomac, MD
2105
Artomatic, Hyattsville, MD
Rittenhouse Square Fine Arts Festival, Philadelphia, PA
Bethesda Fine Arts Festival, Bethesda, MD
2014
BlackRock Center for the Arts, Germantown, MD, "It's Abstract"
39th Street Gallery, Brentwood, MD, Gateway Artists show
Bethesda Fine Arts Festival, Bethesda, MD
Rittenhouse Square Fine Arts Festival, Philadelphia, PA
2013
Space 7:10, Silver Spring, MD, solo show
ArtMatters Gallery, Mt. Ranier, MD, "We the Artists"
Bethesda Fine Arts Festival, Bethesda, MD
Northern Virginia Fine Arts Festival, Reston, VA
Cain Park Arts Festival, Cleveland, OH
McLean Project for the Arts, McLean, VA, MPAartfest
Bethesda Row Fine Arts Festival, Bethesda, MD
2012
Glenview Mansion Art Gallery, Rockville, MD, solo show
Bethesda Fine Arts Festival, Bethesda, MD
McLean Project for the Arts, McLean, VA, MPAartfest
Bethesda Row Fine Arts Festival, Bethesda, MD
Artomatic, Crystal City, VA
2011
art matters gallery, Mt. Rainier, MD, "Still Lives: Accumulation of Meaning", solo show
Gallery 555, Washington, DC, "Tis the Season"
Studio Gallery, Washington, DC, "Uncommon Boundaries Too"
McLean Project for the Arts, McLean, VA, MPAartfest

2010

DC Arts Center, Washington, DC, "1460 Wall Mountables"
Brentwood Art Exchange, Brentwood, MD, "Artists of the Gateway Arts District"
39th Street Gallery, Brentwood, MD, "Artists of the Gateway Arts Center"

2009

Artomatic, Washington, DC
artdc gallery, Hyattsville, MD, "12x12"
The Gallery @ CNMC, Children's National Medical Center, Washington, DC, "Expect the Unexpected"
The Art League Gallery, Alexandria, VA, Student/Faculty Show
Tuberous Sclerosis Alliance Charity Auction, Washington, DC

2008

Space 7:10, Silver Spring, MD, solo show

Artomatic, Washington, DC

The Art League Gallery, Alexandria, VA, Student/Faculty Show
DC Arts Center, Washington, DC, "1460 Wall Mountables"

2007

Metamorphosis Art Show, Arlington, VA
Heliport Gallery, Silver Spring, MD, "20901, 20902, 20903, 20904, 20906, 20910"
Artomatic, Crystal City, VA
Art & Soul, Bethesda, MD, juried charity auction
The Art League Gallery, Alexandria, VA, Student/Faculty Show

2006

Touchstone Gallery, Washington, DC, 8th Annual All-Media Juried Exhibition
Bethesda Artist Market, Bethesda, MD

2004

Artomatic, Washington, DC

2003

The Art League Gallery, Alexandria, VA, solo show
The Art League Gallery, Alexandria, VA, All-Media Membership Show

2002

Results Gallery, Washington, DC, solo show

2001

Touchstone Gallery, Washington, DC, Small Works Show
JoAnne Rose Gallery, Reston, VA, 8th Annual Juried Exhibition of Fine Art
Community Art Exhibit, Silver Spring, MD
The Art League Gallery, Alexandria, VA, All-Media Membership Show
The Art League Gallery, Alexandria, VA, Student/Faculty Show
2000
Artomatic, Washington, DC
The Art League Gallery, Alexandria, VA, All-Media Membership Show
JoAnne Rose Gallery, Reston, VA, "Driven to Abstraction"
The Art League Gallery, Alexandria, VA, American Landscape Show
DC Arts Center, Washington, DC, "1460 Wall Mountables"
The Art League Gallery, Alexandria, VA, Student/Faculty Show
awards
2017
Residency at Virginia Center for the Creative Arts (VCCA), Amherst, VA

2016

Recipient of a FY17 Grant to Individual Artists from the Arts and Humanities Council of Montgomery County (AHCMC)
2011
Recipient of a FY12 Grant to Individual Artists from the AHCMC

2010

Recipient of a FY11 Grant to Individual Artists from the AHCMC

education

1999-2014

Classes/workshops at the Art League School, Alexandria, VA

2001-2004

Classes at Glen Echo Park, Glen Echo, MD

1994

Brown University, Providence, RI, Bachelor of Science